Frequently Asked Questions

Q: Why choose this hoist over a cart or dolly?

A: We used a cart for a year or so, so we have some knowledge of the advantages of the hoist.


~Save on garage space, since the hoist lifts your top out of the way.

~Carts leave your top exposed to dings and scratches since the top is at ground level.

~Makes mounting and removal a one-person job.

~No tricky manuevering of the top over the trunk of your car to get it mounted or removed.  One slip results in serious damage.
Q: Why choose this hoist over your competitors' products?

A: Several reasons to choose our hoist:


~Cost. In the majority of cases, our hoist is priced lower.

~Ease of use. This hoist was designed as a result of frustration with other designs.  There is no bothersome strap that needs to be worked out from under the top after lowering it, or threaded back under prior to raising it.  Our design uses two rear hooks that easily slip in place.

~Hardtop protection. Unlike some other hoists on the market, ours uses a padded bar under the roof-line.  Some competitors use only straps, which can scuff your paint if in contact with it.
Q: Can the hardtop be suspended indefinitely, for example, over the summer months?

A: Yes. I've thoroughly tested it myself, and have had our hardtops suspended for six months at a time with no ill effects.  Many of our customers have also left their tops suspended to long periods of time, and we've not heard of any problems in doing so.

Q: Can the hardtop be suspended with its storage bag to keep it dust-free?

A: Yes, as the following image will indicate.  I will say though, that it is a bit of a hassle lowering the top and getting the bag off the hardtop, unless you lower it all the way to the floor.  I personally don't use a storage bag--dusting off the top is easier.

Q: Will you ship your product internationally?

A: No.  We were in discussions with a gentleman from Japan who asked about shipping charges.  In our exploration of the issue, we discovered shipping alone came to $160 (and that was just for the manual version).  In addition, we would have needed several documents filled out and attached to the shipping box just to get it through customs.  Due to these obstacles, we've reluctantly decided to limit shipping to the 'lower 48' United States.

Q: Can I park my car or SUV in the garage with the top suspended?

A. Yes. The following image shows my wife's Ford Explorer parked under the top.  In our case, this is with a 9' high ceiling. The electric version will set the top 4" lower.  The second image shows an unladen hoist, which gives even more space.  Of course, if your ceiling beam is further to the rear of the garage than mine, you have more space over the hood area of the vehicle.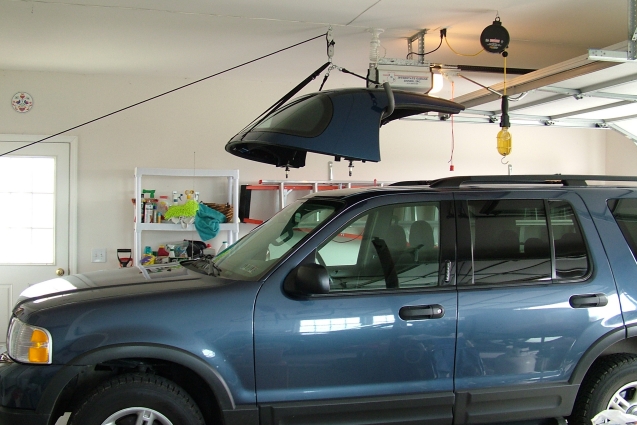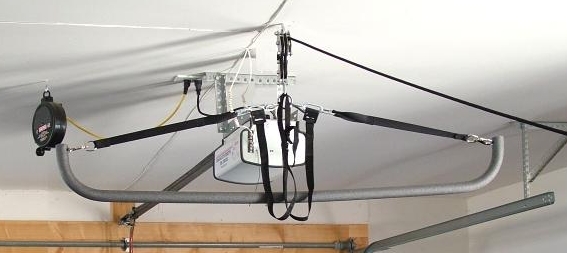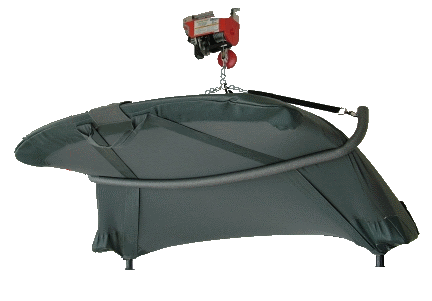 Q: Will my garage ceiling be the proper height to use a hoist easily?

A:  Ideally, your garage ceiling should be between 8 and 15 feet for the manual hoist and between 8 and 20 feet for the electric hoist.  Any lower and you may have to pull your car forward to raise your softtop after hardtop removal.  In the case of the electric hoist, any higher than 13 feet and modifications to the hand controller may be necessary to reach it.


In most cases we take care of the modifications ahead of shipping out the product. In some cases we let you know about the modifications that you might need to do depending upon your particular situation.  For electric hoist preparation for ceilings higher than 13 feet we rewire the hand controller with a longer cord so it will hang down within reach.  There is a $40 charge to do this if you wish to not do it yourself.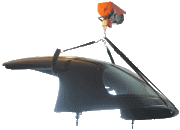 Q: How much ceiling space do I need behind my garage door opener to make this work?

A: If you have 7 feet of space from the opener to the rear wall, you likely have enough room.  Even if your car has a longer trunk and requires backing up further into the garage you should be fine.  You may find that you need to reposition some items away from the back wall to give yourself more space in some cases.  Keep in mind that if you need to mount the hoist further to the rear of the garage due to location of ceiling beams, this effectively decreases the garage depth available to you.

Q: I have a vintage hardtop.  Does Top-Hoist make a lift for my top?

A: We decided at the outset that we would not actively promote our hoists to owners of vintage or limited-production hardtops because, even though we're confident in our product, operator error could potentially happen, and replacement or repair of the top could be difficult.  Of course, carrying and storing your top on a cart exposes it to potential damage as well. 

Q: Should I choose the manual or electric version?

A: The only reason to choose the manual over the electric version is due to cost.  The electric version has several advantages over the manual that I'll mention here.  Although the manual hoist uses a compound pulley that dramatically reduces the effort in raising the top, you still need a certain degree of strength.  If you're arthritic, don't have good grip strength, or simply want an effortless system, then the electric version is the best choice. 


Additionally, the manual version has no brake, and requires that you hold the rope until you've wrapped the rope around the wall cleat several times--there is the potential for the rope to slip from your hand if you're not careful.  The electric version has a brake.  As soon as you release the rocker switch, the raising or lowering is stopped at that point.  There is also an automatic shutoff feature when maximum height is reached.
Q: Will the padded bar harm my top's weatherstripping?

A: There is sometimes a slight impression in the area where the bar supports the hardtop.  This is a temporary effect and has not harmed my two hardtops in any negative way, even after months at a time suspended. We also haven't had any comments or complaints related to this from other customers.  In reality, the padding on the bar is more to protect the cabin as the bar gets passed through and reattached, than to protect the weatherstripping.

Q:  Your shipping charges seem high.  Why is that?

A:  We pretty much break even on our shipping.  We've always attempted to keep shipping changes in line and not inflate them.  One of the boxes we ship is 60" in length, and both FedEx and UPS charge a premium for a box longer than 48".  We've also found that the 'shipping calculators' on shipping websites are inaccurate, and it always underestimates the cost (hmm, I wonder why...).